Market Segmentation
Reveal New Market Segments & Buyer Personas.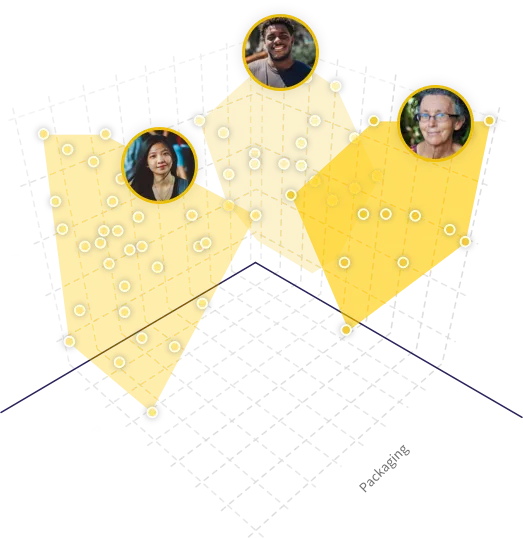 Accurate Market Segmentation
Your customer base may be more diverse than you realize. And if you're using demographic and geographic data alone for market segmentation, it's likely they are. Instead, utilize multiple tools and methodologies to create market segments that more accurately represent your audience.
Manually develop predetermined segments, or allow the SightX platform to automate the process using behavioral and psychographic data to reveal more accurate and untapped segments.
Use Cases
for Market Segmentation
Fitness Clothing
The marketing team for a popular fitness clothing brand wanted to expand their offerings with a new product line. In order to do so, they needed to understand how likely consumers are to purchase a new product line that was unique and different from their typical offerings. They had some preconceived market segments based on census data and demographics, but were looking for a way to more deeply understand their audience. After collecting responses from a representative sample, the marketing team used SightX's machine learning functionality to uncover previously unknown segments using data from behavioral and psychographic questions. They were then able to develop multiple marketing campaigns targeting different segments of their audience. As we know, consumers each purchase things for their own reasons. So why not speak to them in the language they already know?

Market Segmentation & Personas
with SightX
Unique Research Methodologies
While some may rely on demographic and geographic data alone, SightX utilizes additional data points on beliefs, lifestyle, values, traits, and habits to build robust customer segments.
Frequent Testing
Consumer behavior is constantly evolving, the best way to keep pace is through frequent testing and segmentation.
Market Segmentation Made Simple
Automated analysis allows you to perform advanced market segmentation with just the click of a button.
Data-Driven
We believe in letting the data speak for itself, whether it confirms or challenges your thinking.
What Accurate Consumer
Segmentation

Will Do For You
Understand Your Customers
Automated analysis of combined demographic, psychographic and behavioral data can reveal diverse market segments and buyer personas you may have previously missed.
Improve Your Decision-Making
Real-time consumer insights provide you with guidance and direction for more efficient business outcomes.
Enhance Your Messaging
By deeply understanding your brand's customer segments, you can craft expertly targeted messaging and marketing materials that truly drive results.