Heatmaps
A powerful way to understand how consumers interact with your visuals and designs.
Why Use Heatmaps?
Effective consumer engagement demands a modern and creative approach to market research. Utilize heatmapping to gather insights on everything from your product prototypes and design concepts to shelf placement and packaging.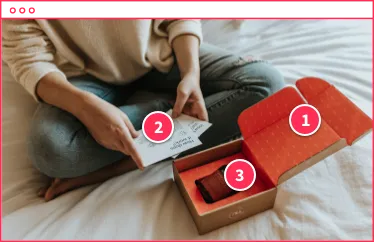 Better understand your users' experience to guide your development. Gain visual feedback directly from your audience to learn what they like, what they dislike, what they notice first, what draws their attention or doesn't, and (most importantly) why.
Applications
for Heatmaps
Product Packaging
A research and development team were exploring new packaging options for their latest product concept. They wanted to ensure that the packaging was able to stand out on a shelf while also complying to brand standards. Heatmapping allowed the team to test various packaging concepts and gain detailed insights on consumer preferences surrounding all types of packaging attributes. Feedback on the design elements, logo placement, packaging types, and more helped the team better understand where consumers focused their attention or maybe where they don't! By rapidly iterating on different designs the team was able to get to market faster and with packaging that they were confident would stand out against competitors and improve their bottom line.

Heatmapping
with SightX
Visual Storytelling
Organize your data about an image into color-coded zones, representing the frequency of activities, interactions, sentiments, and text commentary.
Full-Stack Platform
Design projects, distribute surveys, and analyze results in real-time with a truly end-to-end research software solution.
Automated Analysis
SightX's automated analysis functionalities are paired with a user-friendly interface for a streamlined approach to heatmapping experiments.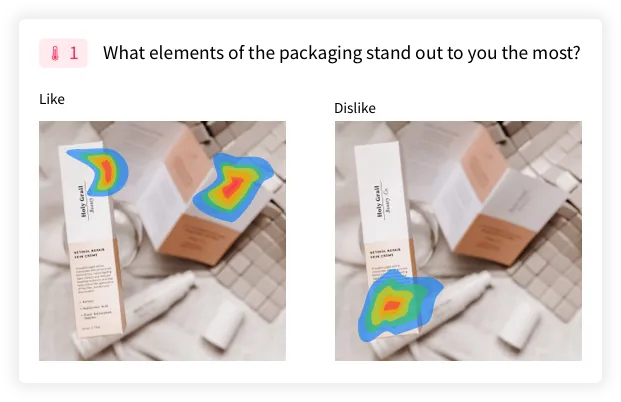 Benefits of Using
Heatmaps
Discover Your Most Effective Ads
Use direct feedback from consumers to optimize your brand's messaging and creative style for more engaging marketing and advertising campaigns.
Identify Your Strongest Product Prototypes
Learn which product attributes your potential customers love and what they could do without.
Hone in on Branding
Use heatmaps for design testing to gain insights on your brand's customer-facing visuals.
Determine Optimal Shelf Placement
Discover the perfect shelf placement and product combinations to ensure your product has a successful retail deployment.