Automated Conjoint Analysis
Optimize your product features and pricing all before they even launch.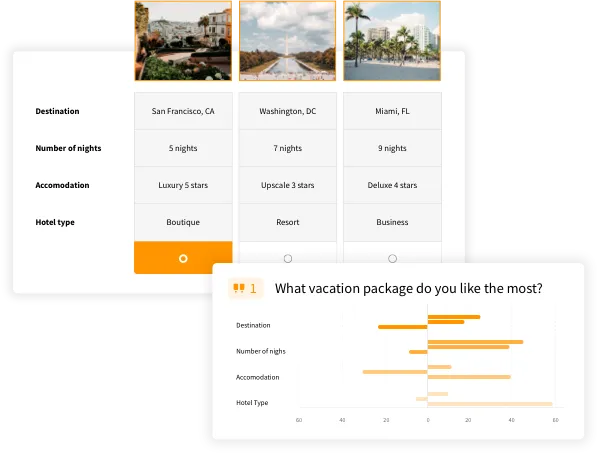 What is Conjoint Analysis?
Conjoint analysis is a market research approach that measures the value consumers place on your offerings' individual or packaged features. It uncovers consumer preferences, allowing you to use the data to predict adoption, test price sensitivity, choose optimal features, and project market share. It accomplishes this by mimicking the trade-offs consumers make in the real world when making purchasing decisions.A conjoint analysis will provide you with part-worth/utility scores, the estimate of the overall value (or utility) associated with each attribute and level used to define your product. Those utility values provide vital insights on how appealing those attribute levels are to consumers.
Why Use Conjoint Analysis?
Conjoint analysis is often used in research to test products and pricing pre-launch. Conjoint experiments help to identify the rules consumers explicitly (and implicitly) use to make their purchasing decisions.The premise of this technique is fairly simple: consumers conduct mental trade-offs between product features, prices, and other factors like quality, functionality, or style.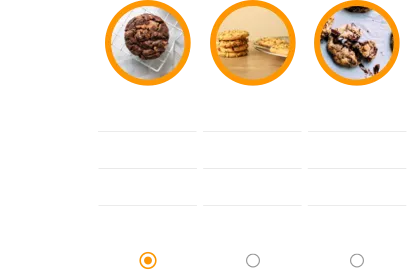 The purpose of a Conjoint Analysis is to assess how consumers evaluate a product and the value they place on each attribute. This ultimately enables your team to find the optimal feature set to make your launch a success.
Use Cases
for Conjoint Analysis
Electric Vehicles
An electric vehicle company needed to understand what potential consumers valued the most when it came to their latest vehicle model. Would they be more likely to purchase a medium priced electric car in grey with extended range, or are they more likely to lean towards the higher priced model with a leather interior and luxury upgrades, but with a lower range? By using conjoint analysis the company was able to go to market with the package of features that optimized sales and market penetration.

Automated Conjoint Analysis
with SightX
Conjoint Made Simple
With SightX's automated conjoint analysis all you have to do is specify your product features, price range, or even customize a specific product configuration you want to test, and the software will generate and run a balanced conjoint experiment.
End-to-End Market Research Platform
Design projects, distribute your surveys, and analyze your data in real-time with a truly end-to-end research software solution.
Flexibility
Optimize your product features and pricing no matter your industry, from consumer goods, to subscription bundles, or even employee benefits packages.
What Can You
Learn

from a Conjoint Analysis?
Optimize Your Offering
Discover the value consumers place on each of your product or service features and their respective levels to uncover your optimal package.
Understand Your Customers
Uncover the trade-offs consumers make when evaluating your product to drive more efficient outcomes, optimize market penetration, and your organization's success.
Improve Your Pricing
Test your pricing against competitors to determine sensitivity to price and feature changes.
Project Market Share
Utility scores from conjoint analysis simulate market share so you can better understand the likeliness of consumer adoption.
Data-Driven Decision Making
Take the guesswork out of developing the optimal product and pricing strategy. Confidently go to market with better products.