How to Test Your Messaging and Claims [Free Survey Template]
Savannah Trotter • 19 Jan 2023
We live in a noisy world, constantly bombarded by advertising and branded content. This makes finding a way to cut through the noise and effectively communicate with your target market harder than ever before.

Whether you're drafting copy for an upcoming ad campaign or developing claims for your product, you've got to find language that intrigues, entices, and engages consumers.

Message testing allows you to do just that, by eliciting direct feedback from those you want to reach. Ultimately helping you discover the most appropriate messaging for your branding, sales, and marketing collateral.
Why Should I Use Messaging Testing?
As any marketer would tell you: not all copy is created equally.
While your marketing, product, or sales teams may use certain words or phrases to describe and promote your offerings- that doesn't necessarily mean it's the same language used by your target market.

Message testing allows you to break out of your internal echo chamber and evaluate the messaging and claims your teams create. The data you gather can give you insights into your customers' pain points, challenges, and preferences- allowing you to better speak directly to each.
In the long run, message testing will help you understand what actually resonates with consumers and what falls flat.
How to Effectively Test Your Messaging
To get the most actionable insights, you'll need to include the right mix of questions and experiments. We'd suggest starting with a concept test and focusing on areas like:

Likes and dislikes for each of your messaging options


The believability, uniqueness, and clarity of your claims and copy


How well the messaging fits your brand or product


And how relevant the brand messaging is to respondents
Once your survey data is collected, you can check the results to see which concepts respondent's preferred. And, in cases where the results aren't quite so clear-cut, you can use tools like automated significance testing to pick out the truly meaningful differences between your messaging concepts. The output might look something like this:

You can also use automated segmentation analysis to create personas based on data from behavioral or psychographic questions- allowing you to tailor your messaging based on consumers beliefs, values, or habits instead of using traditional demographic segmentation methods.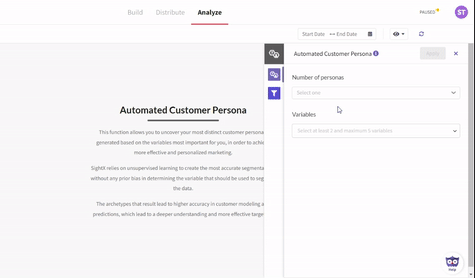 If you're ready to optimize your messaging and claims, use the link below to get our expertly-crafted messaging testing template:
Message testing with SightX
The SightX platform is the next generation of market research tools: a single, unified solution for consumer engagement, understanding, advanced analysis, and reporting. It allows insights, marketing, and CX teams start, optimize, and scale their insights workflow.
But, SightX isn't just great tech. All of our survey templates are developed by in-house research and insights experts. Our research team knows all of the industry best practices, along with some tips and tricks for getting the best data out of your surveys.
If you're ready to test your messaging and claims, get started with a free trial today!
Ready to meet the next generation of market research technology?
The Future of Market Research